Pocket Cruiser Plans and DVD Set
Pocket Cruiser Plans Only
DVD Set Only
$102
$45
$57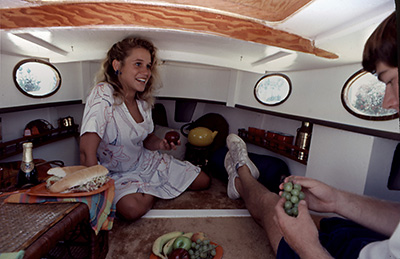 The Pocket Cruiser design was the result of requests that were coming in to Popular Science for an over-nighter that would be as easy to build as the weekender, -but for people who cared more about room inside than the lively performance of the Weekender.

All boat design is a matter of trade-offs with skippers picking their favorite features to take precedence over other limiting factors. And so the Pocket cruiser emerged with a lot of both cabin and cockpit space for a fourteen foot boat. To pay for this design-wise, we ended up with more windage with the larger, taller cabin, and a wide beam that meant she would resist heeling and wouldn't get the same dynamic lift of the Weekender except in very stiff breezes.
To balance the boat under sail we had to go back to the centerboard concept. But to keep from breaking up the room inside the cabin with a centerboard trunk, we made "bilge-boards", (centerboards mounted out to either side of the cabin space). These have worked out fine, but the wide hull bottom meant that we'd also get some pounding going upwind through a heavy chop. This was the trade-off we had to pay for a boat that would be roomy enough for cruising and partying, and builders seemed to be ready to accept this on what we thought of as a "social boat". Small, yet great for entertaining.
The biggest surprise to come from the Pocket Cruiser project came from reports we started getting back from skippers. Although the Weekender and Vacationer have obviously more sea-kindly hull shapes to handle the ugly stuff, which is the boat builders have taken on the longest cruises—up the coast of Australia, down the Mississippi, and along the bottom of South Africa? You guessed it: the Pocket Cruiser!
Another advantage of the ample beam width is that she can be loaded down without too much concern. When shooting some onboard sailing shots of the Weekender we came across a Pocket Cruiser storming along with every kind of sail added on, a big outboard hanging off the built-in motor mount, and a full party of revelers out for an afternoon's fun. (You can spot a short shot of this boat in one of the sailing action videos).
In fact the P-C that made the Australian passage was originally built from the salvaged plywood used for Volvo packing crates. It had been retired after a ten year run and was allowed to weather, only to be rebuilt and sent to sea again for the big voyage. There's something about this boat that gets people sailing.
Because the original Catboats came along when people were starting to convert old sailboats into motorboats, we rigged a hefty, built-in mount for outboards and show the boat in the plans being motored without the mast and sail rig as a vintage motor-cruiser,-just to add another way to use this versatile little boat.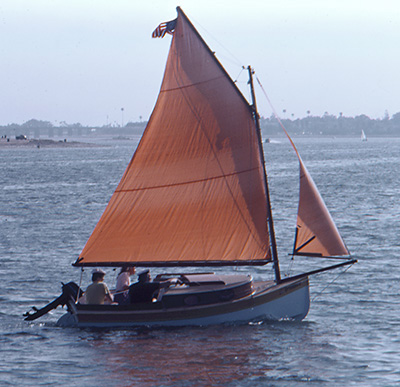 To solve this design challenge we turned to the classic Catboat designs of the turn of the last century. These tubby little sailers had loads of visual appeal, with a layout that made possible large cabin space within a short overall length. In fact, when we first built the Pocket Cruiser, we'd met a lad who was living permanently on his 14-foot traditionally built Catboat, which helped sell us on the overall design concept.
The traditional Catboat, with its large single sail, has also been known as a boat that's sometimes tricky to tack. So we (like a lot of original Catboat sailers) added a bowsprit and a jib, which not only increases overall speed, but makes handling a lot easier. However, we see the boat sailed in both configurations, so it's largely a matter of personal preference.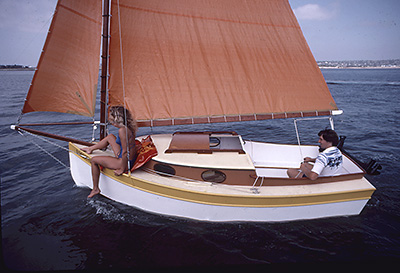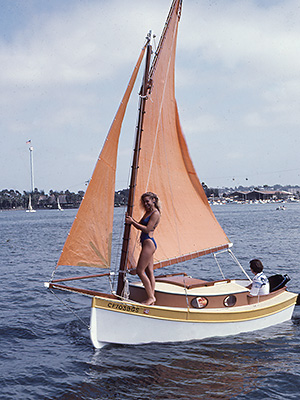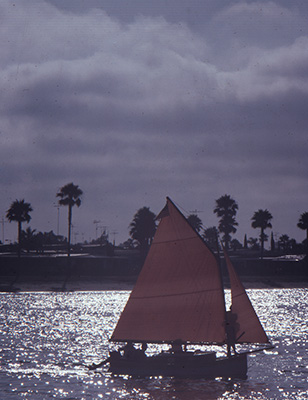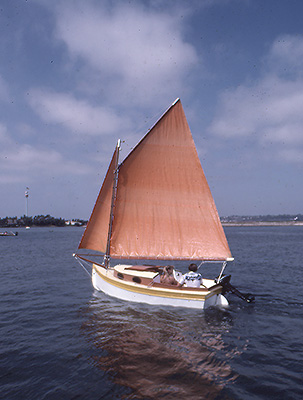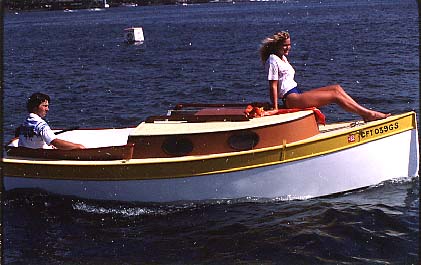 In the background of this photo one can see Mike Bailey in his Weekender. He was fourteen when he built this boat! He installed an electrical system, cast his own cleats in metal shop (he was in high school, of course!) The only adult help he needed at the time was someone with a driver's license to tow his Weeknder to the bay! A very inspiring young man...
Click Here
to go to the
Pocket Yacht Model Page,
there you will find the links for the Paper Pocket Yachts, as well as a nice look at other models builders have made (including a nice look at a Pocket Cruiser model which shows the bilge boards well)
Click on these photos for larger versions...

Pocket Cruiser Plans and DVD Set
Pocket Cruiser Plans Only
DVD Set Only
$102
$45
$57