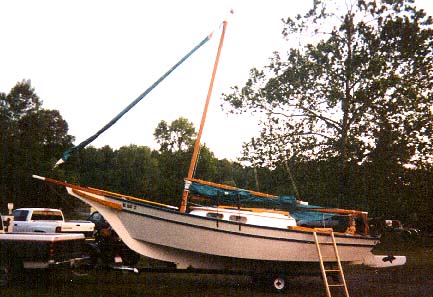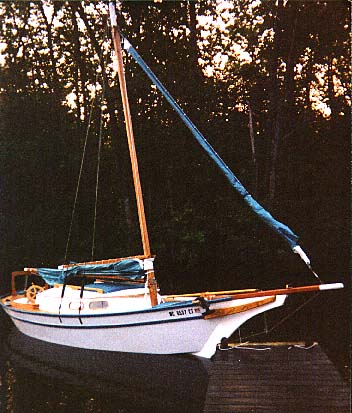 Over the years we've had several people build more than one of our projects, as Mr. Donald Lassiter has. What sets this builder apart from the crowd a bit is his thoroughness and all-around nice job! This is the nicest
Vacationer
we've seen yet. The Vacationer is the second boat project of ours he's built; fifteen years ago he built a
Weekender
.
We like the teal-and-white color combination, especially with the green tarp sails. Mr. Lassiter has done a complete job on this boat. He's added a permanent boom-crutch and a simple furling system for his jib. Both the peak and throat halyards are routed to the cockpit.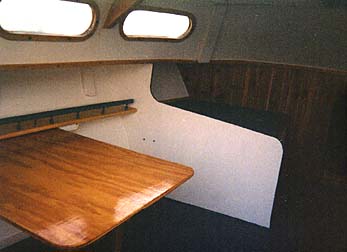 From the looks of the interior shots, this is a cozy boat. In this shot, one can just see the head area behind the partition. Mr. Lassiter has done a nice job on the brightwork, inside and out.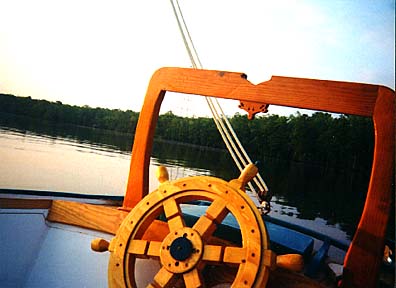 Here one can see the custom boom crutch, and the handmade wheel. What doesn't show up in these shots is the tounge-in-groove cedar deck!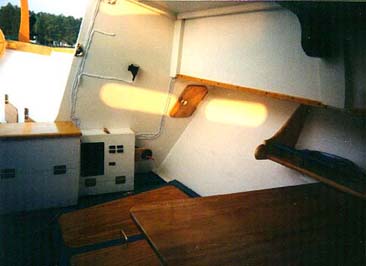 The port interior shot shows the electrical system. This boat has small winches, a compass, lights, and a 42lb. thrust electric motor for auxilliary power. A great-looking installation!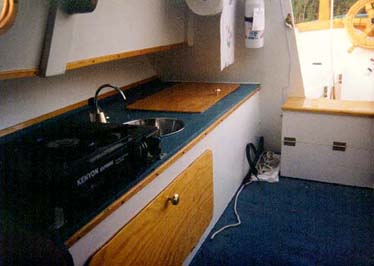 The starboard interior has the galley stuff. The sink was made from one of his wife's stainless mixing bowls. Very handy...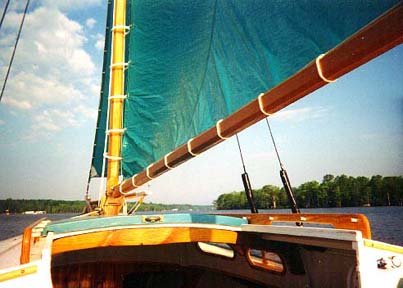 This helmsman's-eye view makes us want to get our boats out; it looks like Mr. Lassiter has a nice spot to explore.

Our thanks to Donald for sharing his work!