Here's some information about the HotVW's articles on
the Stevenson Projects Woody.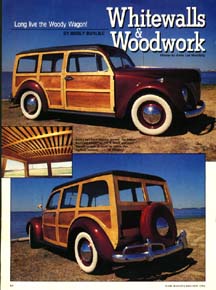 This article appeared in the August '91 issue, and covered the Woody built by Dave Noxel. The article was by Burly Burlisle, with photos by Anna Lee Maultsby.

Another, more recent article appeared in November of '94 by Dean Kirsten. The woody in this article was built by Ernie Giguere. Dean's article was one of our all-time best features on one of our projects, and we would like to thank him for his thorough job.

Dune Buggies and HotVW's, the magazine's complete name, is a great source of information, both through the feature articles, as well as the ads. Not many magazines have maintained a level of useful how-to spots over the years. HVW's has never wavered in its support of the humble VeeDub owner, tinkering into the night in the ancient traditions. They've been a favorite mag of ours for a long time, even before they covered our projects!