Mr. Ray Brown, Jr.'s Weekender Page

---

We recently received a nice bunch of shots from Mr. Ray Brown, Jr.'s new Weekender. He has made a few modifications, and I think we'll let Mr. Brown describe them himself:
Hello Mike!
I just wanted to write you a quick note about my weekender the "Loris
Jane". I also wanted to commend you on the great new things you are doing
with your site, and keeping the weekender builder-skippers in touch.
I have attached a few pictures of my boat! As you can see I did make some
minor changes to the plans. I made my cabin square up top, and added a
window up front. I also only used one window on the cabin sides. I also
used a tiller rather than the wheel, and brought the boom up about 1' in
the rear to hopefully clear my head. And I used 1 rub rail rather than 2.
Then to stiffen up the hull sides a little since I only installed one
rail, I used expanding foam behind the seats and in part of the forepeak
area. It seemed to work real well.
I am very pleased with how well she turned out, and also wanted to thank
you for the easy to read plans. It is great that everything this boat
needs is available at a lumber/hardware store. Things like the gooseneck
fitting can cost an arm and a leg, but when you show us how to make one for
a few bucks from local suppliers it make the whole building process alot
more enjoyable.
I should have her on the water within the next couple weeks, and I can't
wait to see how she does! Thanks again for everything.
Ray Brown, Jr.
Lincoln Nebraska
raybrown@nesafetycouncil.org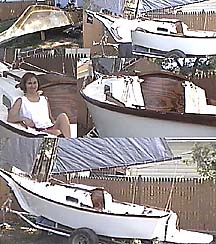 The photo above is a link to a larger version.