Bass Boats!
The Bass Boat was a project we did for Popular Mechanics back in the early '80's. It is a great project and we are happy to be able to share these wonderful photos!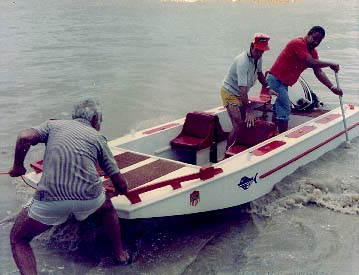 Bass Boat, E.H. Jatin, Surinam!
This was a surprise: a very nicely done Bass Boat being used as a river ambulence by a clinic in Surinam (north part of South America). Although we no longer sell the Bass Boat plans, we thought people might get a kick out of this.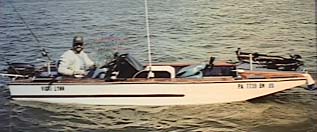 Bass Boat, Gerard Petrella
"...a scan of my recently completed Bass boat. I spent about two months working on it during the
summer. I worked on it at my leisure that s why it took me two months, I could have completed it much faster if I would have concentrated on it. As you can see in the scan I really loaded it with options, amateur radio,marine ship to shore, airiated live wells, deluxe swivel seats, teleflex steering, 15 horse electric start Johnson out board, and a Johnson trolling motor. The boat handles well but I would like to use a bigger motor, but the flat bottom makes for a bumpy ride at fast speeds. I finished the boat with oil base paint and did not elect to fiberglass the hull. It has not taken on any water, I also used non snag marine carpeting in the cockpit and on the casting decks. As I said before, I am very pleased with the boat. I have sent for your Kayak plans and I am looking forward to building that in the near future. I also have your mini cat plans but just never got a round to building one. I am to busy playing with my other toy as my wife calls it. I will send you a scan of it also, I built it back in 1987 and it flys great."